I've enjoyed doing
that picspam of Anneke's appearance in The Saint
so much that it gave me the idea to do something similar with all the Second Doctor adventures I have on DVD - and this including the surviving episodes of burminated serials so that I can have some more Anneke (even though things will inevitably focus mostly on Two and Jamie in the end). Because of this, I've spent all afternoon capping episode 3 of
The Underwater Menace
and episodes 2 and 4 of
The Moonbase
. I'll post the (70!)
Moonbase
caps tomorrow, and focus today on that monument of silliness that is
The Underwater Menace
.
I'm actually rather fond of this serial, though I'm afraid I'm unable to take it seriously. Joseph Furst hams it up as Zaroff like nobody's business, and the fish people are just to die for - laughing, that is. :P But then, there's Jamie in that uniform (*points to icon*), which compensates everything.
Anyway, here it is - 21 caps of
The Underwater Menace
.
For those of you who think that the Black guardian's dead chicken is the most outrageous hat ever presented in
Doctor Who
, I give you Lolem and his fish.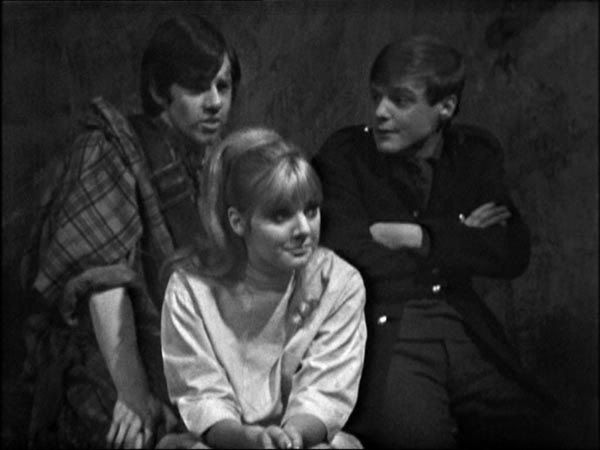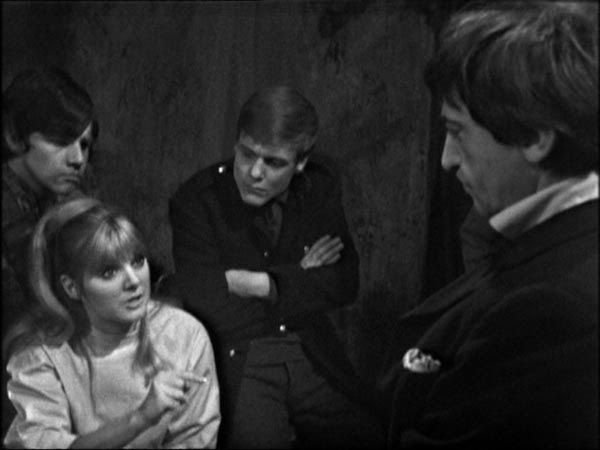 Two's gang. It should be taken into account that this is the last time we see Jamie wearing his 18th century clothes.
I love Patrick Troughton's face.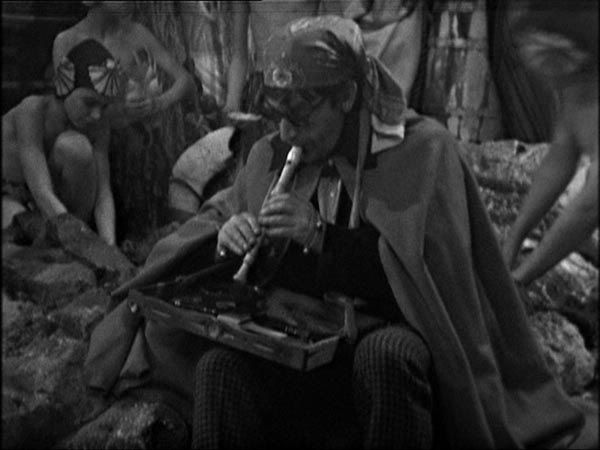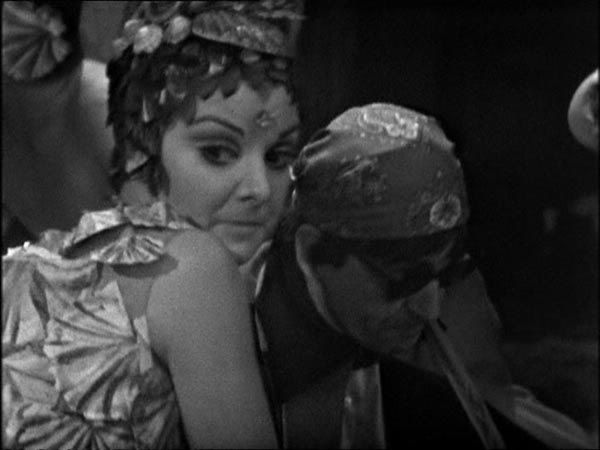 The Doctor dressed as a gypsy and Polly wearing seashells. You've got to love what the costume department did to the regular cast in this serial.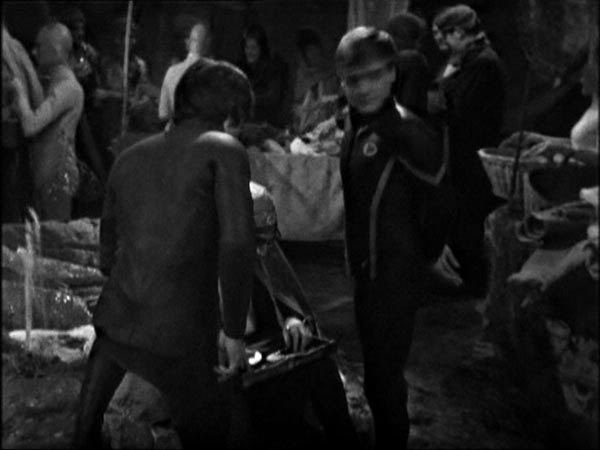 What they did to the boys alone should be enough to build them a shrine. Here's a gratuitous shot of Jamie's rubber-clad ass.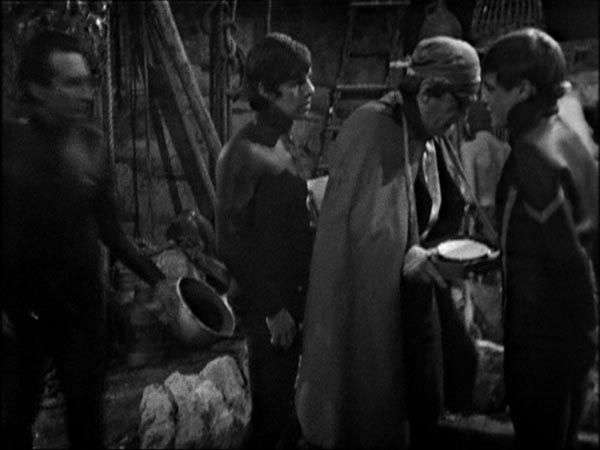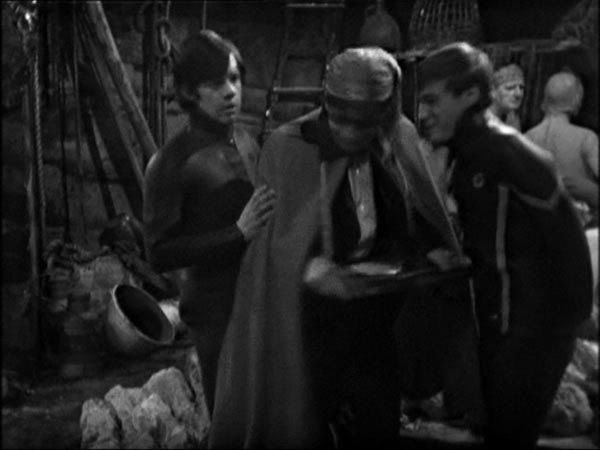 I just
love
seeing Ben nearly cracking up at this point. Granted, this is very much in character and works well in the context of the scene, but I can't help but wonder if Ben was indeed meant to be cracking up in the screen, of if this is actually Michael Craze having a natural reaction to Pat and Frazer's Pat & Frazerness.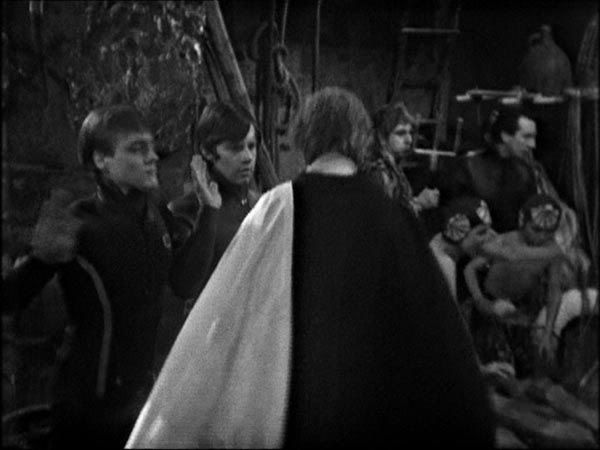 Zaroff:
You, ze two zexy ones, come wiff me.
(alright, so he didn't really say that, but that's what I think whenever I watch this)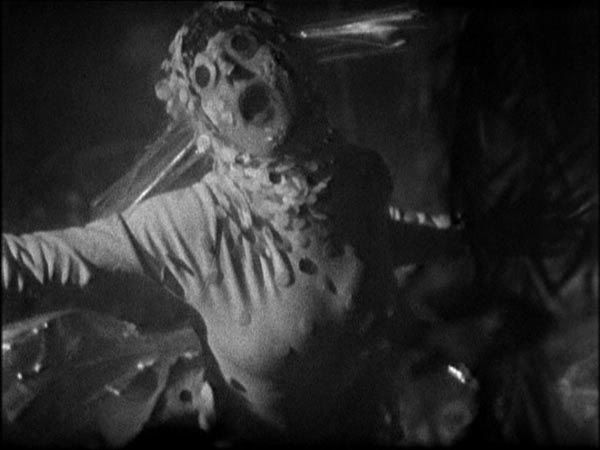 The fish people - silliest Who monsters ever?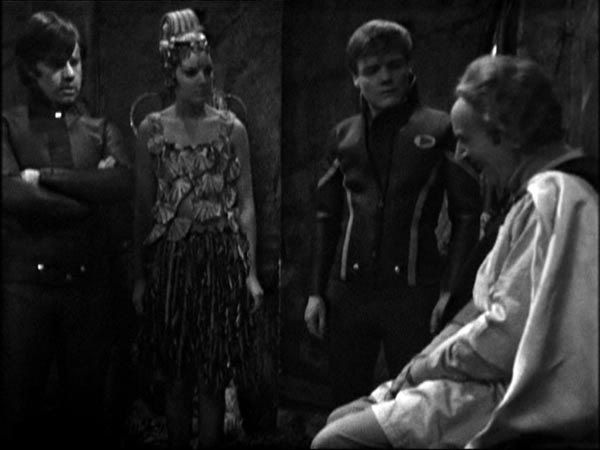 I really, really love the costume department for what they did with those three.
While watching this scene, I kept wondering what was that shiny thing in the Doctor's ear, until I realized it's probably an earring from his gypsy disguise.
Damnit, Polly. I keep praising you to people and telling them how much you kick ass. Why are you cowering in the corner doing nothing? Bad form, Duchess. Bad form.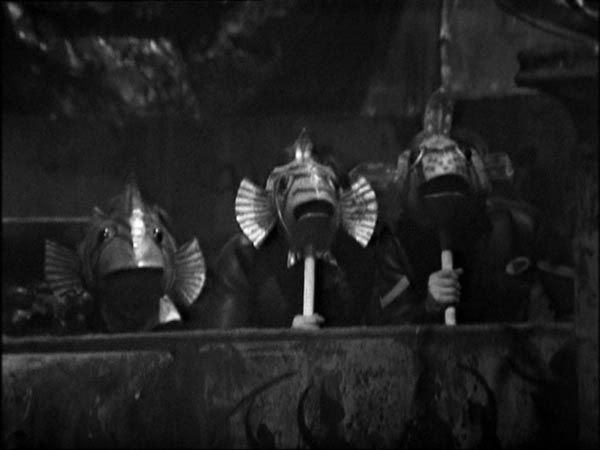 Guess who.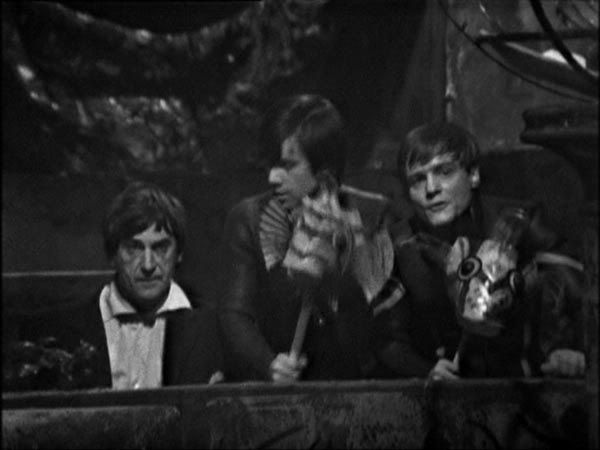 Doctor:
I swear to you, Jamie, they told me it was a fancy dress party!
The boys have just discovered that Polly is in danger, and Ben's face immediately breaks my heart. *pets*
Angry Jamie in a rubber suit is sexy.
And since you can't mention
The Underwater Menace
without including this, I'll have to close this picspam with:
Zaroff:
Nothing in ze vorld can stop me now!
As with the Anneke picspam, feel free to use any of my caps for icons and graphics, if you so wish.
Current Mood:
sleepy